After more than 10 years of using Arkaos GrandVj, Today I decided to give a new dimension to my visuals set-ups..
Thanks to the great offer from Resolume for the black Fridays, I could buy me a Avenue licence for 50%.
Happy Thanksgiving 2013! 50% Black Friday Discount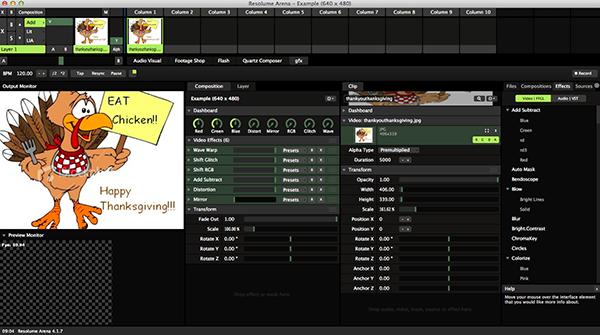 When we first started working on Resolume, VJ'ing was an underground culture. VJs were people who loved to do what they do, who just loved to drag projectors and computers around, show after show, weekend after weekend. If there was any form of payment, it was often just a crate of beer which doubled as a « desk » to put their laptops on.
Since then we've seen the scene grow to heights nobody could have imagined back then. Huge LED screens now take up the stage designs of every music festival. Projection mapping on custom geometry is a staple of the DJ booth in every club. Around the world, visual artists are setting fire to every room and facade with beautiful glowing pixels. Some of the people playing from that beer crate 15 years ago are now flying across the world in private jets accompanying superstar DJ's.
We should never forget who we are and where we come from. So this weekend we give thanks to the old people that have pushed the visual arts to such great heights. And to the new people that will continue to push it in untold directions. We love the path we have walked together with you for almost 15 years now and we're curious to see where it will take us in the future.
Thank You!
This weekend we offer 50% Thanksgiving discount on everything in the shop! All licenses (including educational), upgrades and footage.
This is your chance to stop using that cracked version or to upgrade from Avenue to Arena for half price!
Offer ends on Monday midnight CET. Add your products to the cart and you'll see the discount applied